Birthday Party Photography San Diego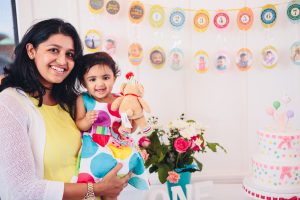 Birthday Party Photography
An important aspect of birthday party photography is the ability of the photographer to communicate with the client and manage their expectations.  If you do mostly portrait work as I do, and that is what is shown on your blog/website/yelp page, it can be hard for a client to understand the difference in what to expect from a portrait session versus birthday party photography.
The solutions for this problem likely vary among different photographers.  My personal solution as of this year is to only offer birthday party photography in a package WITH a portrait session for new clients AND to provide examples of birthday party photos at booking.
In the past I have had a situation in which I failed to explain the difference between my portrait sessions and a less expensive birthday party booking.   I didn't go into a detailed explanation of the difference, or provide samples of the difference.  Due to my failure to inform my client of what to expect, her expectations were very different than what I provided and she was very disappointed in what she received.
Typically my birthday party photos are very photojournalistic in nature.  I try to stay out of the way for the most part and let the party happen. I take photos of all the little details, I take photos of all the guests that are there, I take photos of the decorations, the food, etc.  I do not pull people away from the party and do a lengthy portrait session during the party.  This is for a couple reasons.  1.  Because I don't want people to book a less expensive party instead of hiring me for portraits.  2.  Because it's a party and they should be at the party!
Due to the difference in my approach between the two types of photography, the results are very different.  Party photos are going to look different than a session where I manage the time of day and location and do more in depth edits. That's why there is a difference in price. I can charge less for a party because I spend less time editing and because they are typically during non-desireable times of the day when I would never do a portrait session because of the less than ideal lighting.
Here are a few samples of what to expect from birthday party photography.  They are not posed portraits, but they offer a thorough representation of the birthday party as a whole.  They capture the details, decorations, important moments, and highlight the birthday girl/boy, their family members, and the guests that attended.