Despite the fact that I avoided playing basketball in high school like the plague (too much running), I do know a fair amount of basketball terminology that can make  it fun to watch games in sports bars.  When I yell, "Come on!  Box OUT!" at an appropriate moment, it usually draws a few approving looks that my husband seems to enjoy.  "Yup.  I got a wife that likes sports.  Boo-yah!"
…but that's beside the point.  I'm boxed out because I spent several hours yesterday assembling over 100 shoe-boxes and attempting to stack them into a Christmas Tree shape that kinda ended up looking more like a giant game of Christmas Jenga.  Oh well.  There's only so much that can be accomplished with two young "helpers" in tow.  The important part is that these boxes will in the next few weeks be filled with toys, school supplies, socks, toothbrushes, and candy that will be delivered all over the world to children that may have never received a Christmas gift in their life, or ever heard about Jesus.  I LOVE Samaritan's Purse.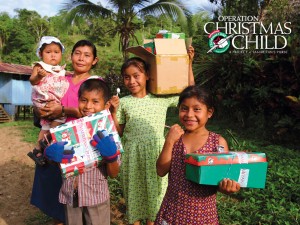 www.SamaritansPurse.org
Their Operation Christmas Child program is one of the few charities that you can feel really and personally involved with without needing to get malaria medication or a passport ahead of time.  Instead of just sending money and not really knowing who it went to or what was done with it, you get to actually shop for and pack a box of gifts that will be given to a child somewhere in the world.
If you're looking for a charity to get involved with this season – especially if you want to involve your kids – I highly recommend this one!  Tonight I packed 10 boxes with my 3 and a half-year-old twins, Annabelle and Alexis.  They actually had a great time helping and
I got the opportunity to talk to them (on a 3-year-old level) about how there are children all over the world who don't have Christmas gifts or birthday presents, or even their own toothbrush!  I explained that each one of these boxes would go to a child who needed a Christmas present and that this gift is our way of telling them about Jesus.   That's pretty powerful stuff.